Chapter 14: HKBN Sip Trunk (PSTN) Configuration
What is HKBN Enterprise SIP Trunk?

Hong Kong Broadband Network's Enterprise SIP Trunk service is fully designed to enhance and support a full range of business communications. Utilising the client's network as its focal point, it significantly reduces telecom overheads while offering a rich array of features.
The Enterprise SIP Trunk is an IP access solution that enables direct service provider to enterprise connections of  IP PBX or SIP gateways over IP. Unlike a time-division multiplexing (TDM) trunk, a SIP Trunk is a direct SIP-to-SIP connection to the public switched telephone network (PSTN) without converting from TDM.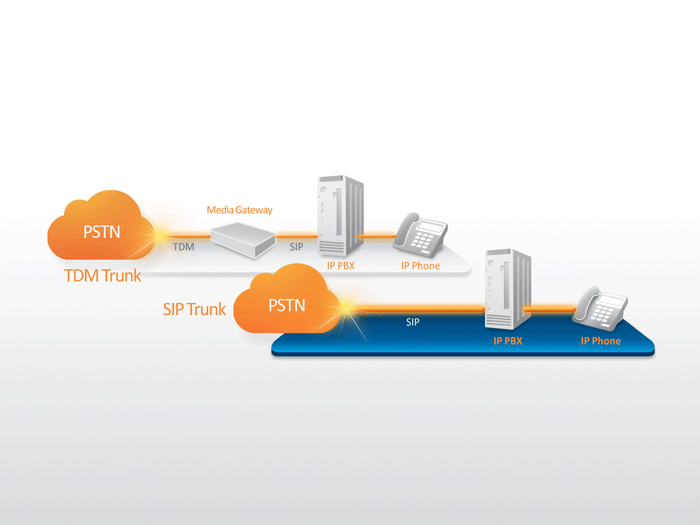 To know more anout the HKBN SIP trunk service, please go to Enterprise SIP Trunk
Hardware Connection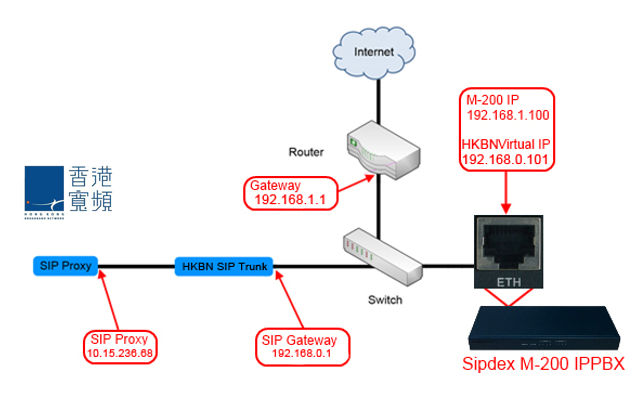 IP Address is provided by HKBN for Sipdex M200
PBX IP Address:               192.168.0.101 (Default)    
SIP Trunk Gateway:        192.168.0.1 (Default)                                                                                              
Subnet Mask:               255.255.255.0 (Default)
SIP Proxy:                         10.15.236.68 (Default)
Sipdex M-200 IPPBX Configuration
Step 1) set up a SIP account
Click Basic > Extensions > New User > Enter SIP ACCOUNT information.
Step 2)   Create SIP Trunk
Click Basic > Trunks > New VoIP Trunk > Set up SIP Trunk
Description: Enter SIP Trunk name, for e.g.HKBN SIP Trunk
Protocol:select SIP
Host:enter the IP Address proviced by HKBN
Maximum Channels:Enter Applied SIP Trunk value
Without Authentication:Tick
Press Save
Step 3)  Create Outbound Routes
Click Basic > Outbound Routes > New DialRule
Rule Name:Enter DialRulen ame ,for Eg HKBN SIP Trunk
Place this call through:Move the HKBN Sip trunk to Selected Trunks
Custom Pattern:Enter  outbound Rule。To call out by HKBN SIP trunk when XXX over than 3 Digits
Remarks:Custom Pattern must be CAPITAL LETTER
Step 4)  Create New Inbound Routes
Click Inbound Control > Inbound Routes >  Number DIDs > New Number DID
DID Number:Enter last 3 digit of the DDI Range ,For 3123 4572 – 3123 4581,Then Enter 572。
Destination:To select different Destination.  For e.g.  If you want to ring 800 Ring group for 31234572 in bound calling.Select Goto Extension and 800, Then press save.
step 5)  Setup Virtual Interface
Click Network Settings > Network > IPv4 Settings > Virtual Interface
IP Address V1:Select ,Enter HKBN PBX IP Address,For e.g. 192.168.0.101
Subnet MaskV1:Enter HKBN Subnet, For e.g. 255.255.255.0
Then press Save
Step 6) create Static Route
Click Network Settings > Static Routing > Static Routing > New Static Routing
Destination IP:Enter  the SIP Trunk的Network IP privded by HKBN,For Eg.10.15.236.0
Subnet Mask:Enter THE Subnet IP privded by HKBN,For Eg.255.255.255.0
Gateway:Enter  THE Gateway IP privded by HKBN,For Eg. 192.168.0.1
按Save
Step 7) Connection Test
Click Network Settings > TroubleShooting >  Ping,Enter HKBN SIP Server / SIP Proxy IP。
Step 8 ) Contact HKBN and test by SIp Info 
Sip Trunk Configuration Guide
SIP TRUNK Provider (Tested)