This is a simple way for your voice communication.
Asterisk 13 IPPBX platform based.
 
Softphone and SIP Client App
It is able to dial out from your mobile, this allows users to communicate with their clients anywhere and anytime.
It supports a SIP client application that allows the Apple iPhone and iPod Touch & Android Phone to be used as a IP-PBX extension.That includes remote workers being able to contact other offices or employees.


Music On Hold
You have complete control over the message that your company puts out to the world. You can upload your own MP3 or .ogg files to play the music and advertising messaging that best suits your company. If you have an external music on hold player, you can connect it to IPPBX as well.
ACD & Call Queues
Now you can offer flawless customer service with the powerful ACD & Call Queues built-in to the IPPBX. Several employees, or all of them, can answer incoming phone calls to your main line, the sales number, or anything else you need. You can upload music or record announcements, and you can let your callers know when they can expect to talk to someone.
Interactive Voice Response (IVR)
IVR allow you to control the first impression of your company. You determine what greeting people hear, what options they have, and where their call gets routed. They can be as simple as "Press 1 for Sales, and Press 2 for Support", or advanced as interacting with your database to retrieve and playback account balances or take payment over the phone.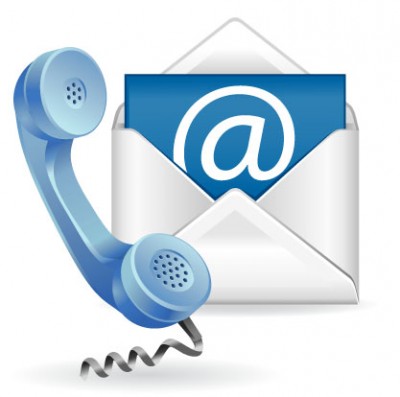 Voicemail
The IPPBX offers a highly flexible, highly capable voice mail system. Among the features that it offers are:
• Three different types of greetings (Busy Greeting / Unavailable Greeting / Temporary Greeting).
• Notification of new messages through email. The notification message may also include an audio file containing the complete message.
• Mailboxes may be password protected.
• Support Day / Night Mode Operation

Voice Conference Bridge

Bring your customers and employees together by sending an option from your auto attendant or pointing one of your inbound phone numbers to a conference bridge. You can have an unlimited number of callers dialed into the conference bridge from within your phone system. Your only limitation to external callers is based on the amount of phone lines you have set up and available in the phone system. Internal users or remote extensions can access the conference bridge without tying up any of your available phone lines.
Fax to Email
Fax-to-Email engine converts inbound faxes to PDF documents and sends them to a pre-determined email address, whether the source be the company's main fax number destined for the receptionist, or configured based on DID for employees who require their own individual fax number. Fax software for sending faxes from your computer is also available.
Call Detail Report (CDR)
There is no more important facet to business today then measuring performance. CDRs contain information about call origination, call destination, the date and time the call was started, the time it actually connected, and the time it ended. A call is considered started or originated when the caller goes off-hook. The call is considered ended when either the caller or the called party goes on-hook.
30 Concurrent Calls
Up to 100 IP Phone Registers/Extensions
Audio Codecs: G.722/G.711-Ulaw/G.711-Alaw/ G.726/G.729/GSM/SPEEX
Video Codecs: H.261/H.263/H.263+/H.264
Protocols: SIP (RFC3261)/IAX2
DTMF: RFC2833/SIP INFO/In-Band
Call Transfer (Internal/External)
Conference call (Internal/External)
Call Park
Call Forward (Internal/External),
Paging (Broadcast / Full duplex)
Pickup (Direct Pick / Group Pick)
Music on Hold (Upload Own Music)
Welcome Music Ringtone (Upload Own Music)
Call Waiting
Call Routing
Blind Transfer  & Attended Transfer
Caller ID
Blacklist
Ring Group
Ring Assignment
Follow Me (Personal Ring Assignment)
Simultaneously rings up to five (5) additional local phone numbers
Department General Tel Number
DID Prefix Display
Video Calls
Voice Mail Module (Voice mail to Email, Personal IVR Menu)
Voice Conference Bridge (Virtual Conference Room, Protected by a password)
Fax Server Module (Fax to Email, Department Fax, Personal Fax)
Hot desk Operation Feature (User Login on the phone before use)
IVR Module (Day / Night / Holiday Mode)
DISA Menu
General Hotline / Department Hotline Number assignment
Call Queue with Auto Call Distribution
Voice recording Module with User Right Management
Voice recording for outbound workers
Call Queue Agent Login / Logout Queue
Call Queue statistics Report
Hotline Manager Mode : Barge In / Listen In / Whisper
4 x Network Interface Port (1 for Data LAN, 1 For Voice LAN, 1 for PSTN and 1 for High Availability)
High Availability
Data Replication Function
Live Heartbeat Detection
Emergency Fail-over
Email notification
Firewall – IP Table
Empty tab. Edit page to add content here.
Simple and Flexible Design.
Amazing IPPBX Features for business.
Sipdex M200S IPPBX is an affordable, scalable, interoperable,secure and reliable solution which not only provides traditional PBX functions such as automated attendant and voicemail,but also many advanced features including remote extensions, remote office connection, conference bridge, call recording,call detail records (CDR),automatic call distribution (ACD), unified messaging (voicemail to email), and many more features

Full Compatible with SIP TRUNK Provider 
4 x 10/100Mbps RJ-45 port
Working Temperature: 0 ~ 40°C
Storage Temperature: -20 ~ 55°C
Humidity: 5 ~ 95% Non-condensing
High availability is Ready

7×24 Heart Beat Sensor
Emergency Backup System(15sec)
Emergency Email Notification
Mirroring Backup
IPPBX Solution Provides
Regardless of which Base Solution you choose, because they are all based on IPPBX you can be assured that they all enable you to:
Buy what you need and grow – Flexible and modular system
Empower all user – Enterprise-class feature and applications
Guarantee long-term investment – Robustness, reliability and high performance
Benefit from industry innovation – Open standards base solution with IP at the core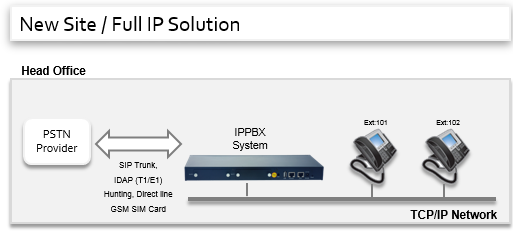 IPPBX Cross Border Connection (SIP Trunk IPPBX Deployment)
We can make use of the SIP trunk connection to connect multiple IPPBX together as an "ONE" communication system. IT IS YOUR OWN "ONE" communication system and which can integrate difference country PSTN Network by your own Dial Plan Setting.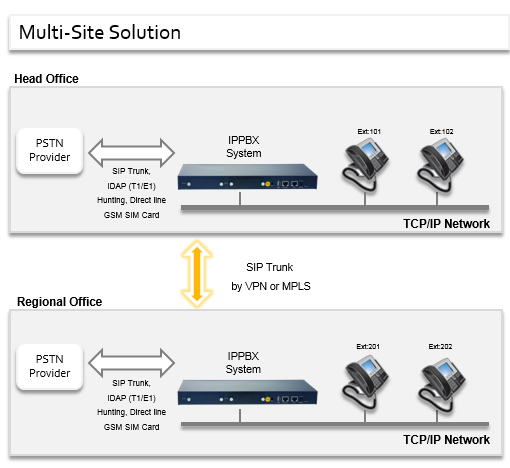 Key Benefits
•Create a virtual enterprise, break the boundary between the Head office to regional office.
•Both offices can share the PSTN trunk  with others to reduce the IDD cost
Key Benefits
•Create a virtual enterprise, break the boundary between the Head office to regional office.
•Integrated Voicemail and Voice logging system for ease to manage
Flexible and mobility for staff or branch office relocation
IPPBX & PBX Interconnection
You may consider upgrading your existed telephone system by step by step without changing your Phone set to IP Phone Extension, Just tie with your keyline system as a VOIP Gateway by using FXS or FXO port. It is cost effective and investment protection, because you may migrate to Full IP Phone system just change to IP Phone as easy as you can.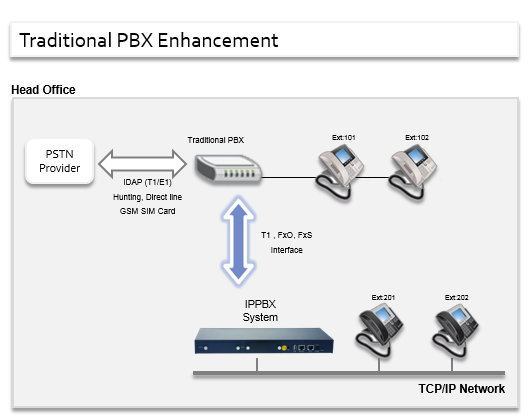 Key Benefits
•Enhance the current PBX to IP connectivity
•Break the limitation of extension / Ports capacity
• With a less changeover  affair and affect
•Investment protection for upgrade and replace the old system
How then?
For Example 1,  The current system is the Panasonic TES824 system, we can use IPPBX FXS port to Connect CO Spare port of the TES824. So When the user only needs to press the line button to access the IPPBX on the Panasonic system.

For Example 2, The current system is the Panasonic TES824 system, we can use IPPBX FXO port to Connect Extension Spare port of the TES824. So When the user only needs to press the Extension No to access the IPPBX on the Panasonic system.

VoIP DID provider application
Stay Close to your Customers, business partners, family and friends having a local phone number in their location. Forward and receive the calls wherever you want, in your office, home, or mobile, anywhere in the world. Use with a softphone, VoIP telephone, PBX, or your own VoIP carrier.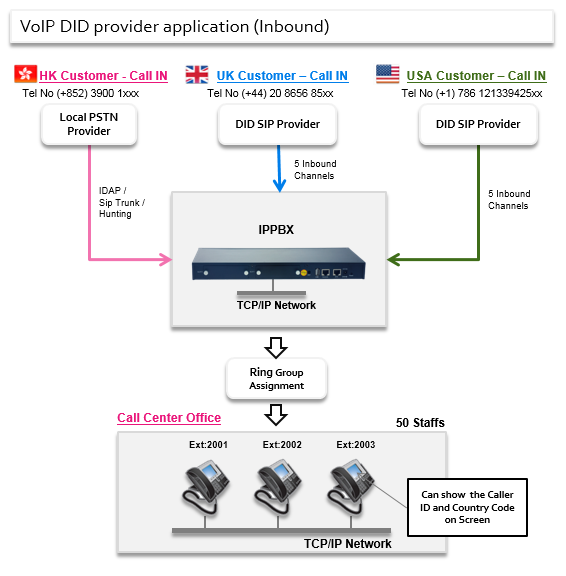 Bye, Toll-Free: 
You may apply any country DID Telephone Number and import to your IP-PBX System through the Internet. It can replace the (800) Toll Fee Hotline No by the cheapest way.
The benefit you get:
1,  Enjoy the lowest rate of Oversea DID inbound Call
2,  Get an Oversea direct hotline number (Similar to skype)
3,  Staff can own One USA No and One Hong Kong No
4,  Staff can identify where the caller calling from and shown on the screen.

Benefit you get:
1, You can use DID Number to call out with showing local Telephone number.
2, You can cut down the IDD cost for call out some oversea country.